Executives and developers from big Indy tech exits are back together at Bolstra
Dating all the way back to 1995 for some of them, several high-level executives and software developers who worked together at some of Indy's largest and earliest successful tech exits have joined forces at the fast-growing scale-up company Bolstra, which is a business-to-business customer success management platform.
On paths that took them from Software Artistry (acquired by IBM for $200 million in 1997) to Aprimo (acquired by Teradata for $525 million in 2010), Bolstra's management team worked at both companies together including founder and CEO Haresh Gangwani, President Steve Ehrlich, and VP of Customer Advocacy John Warne.
New CTO Tim Sublette, who is the most recent addition to the team, recruited his longtime development partner and Aprimo veteran Sally Xu to join Bolstra as well. Tim, himself, is based in Utah but he has deep roots in Indiana with long, successful runs at Software Artistry and Aprimo with the others, and he is a Rose-Hulman Institute of Technology graduate.
Finally, Bolstra software was originally developed by Northquad. Tim worked with many from the Northquad so he is familiar with the nuances and quality of the platform he has inherited.
It's all about the team
Startups and scale-up companies are always going to have to answer customer questions about whether or not they will be around in a year or in five years. It's healthy skepticism from buyers protecting their investment in new technologies and the onboarding and training required to achieve a great ROI.
"We've been there, done that," said Haresh. "As a group we've built and scaled two very successful companies together, so customers can have a high level of confidence in this team and in the product we've built and continue to improve."
What Haresh describes as the dynamic with the aforementioned executives and developers goes beyond liking your coworkers. It's shared trust and shared values that keep the team now assembled at Bolstra coming back for a third try together and building something lasting and positive in the tech ecosystem like their first two ventures.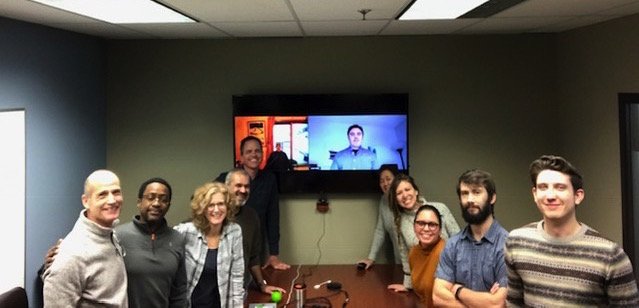 The new/old CTO
Aside from the opportunity to rejoin forces with past Aprimo leaders, such as Bill Godfrey (lead investor at Bolstra), who he knows and respects, Tim also made the decision to join Bolstra because he likes being part of early-stage companies where he knows he can influence the product roadmap. He was employee number four at Aprimo, serving as VP of Software Engineering before the company sold to Teradata in 2011. He was employee number three at 3DSIM based in Utah, where he served as the CTO for five years until it sold last November. Having participated in the rapid growth and eventual exit at three different scale-up software companies, Tim knows what it takes to grow and lead technical teams for scaling.
"We couldn't be happier about having Tim Sublette as our CTO," said Haresh. "We may all know of his talents because of working with him in the past, but the experiences Tim has had since those days at Aprimo are invaluable in bringing a broader perspective to Bolstra. He is the ideal combination of strategic vision, inspiring leadership, and deep development talent."
Already in his short tenure, Tim has enhanced the angular framework and identity management of the platform and laid out a product roadmap that Haresh says is exciting the rest of the team. In the next six months, the Bolstra dev team has identified the following priorities for product enhancements:
A new (better) set of tools for reporting and visualizations of analytics. The current analytics capabilities are robust. However, customers have been asking for advanced reporting capabilities and better visualizations. The new framework will provide some out-of-the-box reports, as well as intuitive capabilities to create visually appealing and informative customized reports.
Outbound email capabilities: In addition to logging inbound e-mails as touchpoints, Bolstra users will now be able to send personalized emails from within the platform.
Productized integrations: Bolstra's open-API architecture is designed to integrate with virtually any software. In the near future, some custom integrations will be productized so that all customers can use them with some configuration out of the box.
Event hooks embedded into the platform: Customers will be able to easily use APIs to call and gather usage data from their own application. This data provides vital information about the health of their customers through insights into application usage.
Looking ahead, Tim has a great R&D vision for Bolstra's future. As Bolstra continues its growth, he'll be looking to grow his team on all fronts—product people as well as front-end and full-stack engineers. Tim and the rest of the leadership team see Indy's explosive tech landscape as a great place for Bolstra to take root and grow.
Want articles like this sent to your inbox?
Join the 30,000+ people keeping up with the latest Indy tech news, stories, and events by signing up for our newsletter.
Subscribe Now