Meet Devin Burns, VP of Finance at Zylo
Employer: Zylo
Job Title: VP, Finance
Degree Path: BA – Business Management, BYU-Idaho & MBA Fuqua School of Business, Duke University
Hometown: Glendora, CA
Current City: Indianapolis, IN
What led you to your getting into tech and this occupation? What was your first job in tech?
I started in finance and accounting because a friend's father was a CPA. It wasn't too deep of a thought process that got me there. I just thought they had a good life and thought I'd mimic it. I got into tech startups because I love growing things and being heavily involved in small company leadership. Tech is so fast-changing, that startups can have superior products to incumbent companies.
What has been your career path so far?
My first finance job was as the CFO of a US Submarine. It is just like a startup: limited crew, limited resources, and you must succeed. When I left the Navy, I spent the first part of my corporate career working in finance for larger outdoors companies. A few years ago, I realized I wanted to work in Tech (always something new, changing the world, most valuable stock options, small companies with "many hats" jobs).  I jumped from the outdoors industry to Tech when I joined Mersive Technologies. Working at a tech startup is like dog years. 2-3 years of work equals 7-8 years of experience. I ended up being heavily involved in the sale of the company – I was hooked. Zylo, my current employer, has more potential, great leaders, excellent investors and business champions, an awesome new market and a market leading position – I couldn't be happier to be working for such a high potential company.
When you think of a day in your life, what are the main work activities you do or responsibilities you have?
My day to day varies. The first week of the month, when I am working on closing the prior month's financials, I can tell you exactly what I'll be doing and when. It is very routine, possibly even mundane, however, I can still be interrupted with surprise meetings and projects at any time. Outside of the first week where I am preparing our financials for reporting and analysis, the rest of the month I am working on key items that either I or the leadership team feel is important. Everyone works differently, so this next example of a typical day, could vary from financial leader to financial leader, but that being said:  I try to arrive at work earlier than everyone else, I find that the first hour or two when no one else is in the office is my most effective personal project time. I generally have meetings about 25% of the time, some days are busier than others. I spend another 25% of my time working with others outside of meetings and about 50% of my time working on personal contribution projects.
It is important to recognize that finance is seasonal. There is the monthly busy week with Month-End Close. There are annual and quarterly busy times as I prepare budgets and reforecasts. There are also pop up projects that take a lot of time, rounds of financing, taking on a debt facility or working through the sale of a company – these can take over your schedule for weeks or even months. It is important to be prepared for these cycles and seasons.
Normal work activities include contract negotiation and review, invoicing, tracking expenses, paying bills, working with vendors, reviewing results, analyzing financials, preparing and delivering reports, working with managers on their budgets. The good news is that it varies a lot. I get to be pretty well rounded.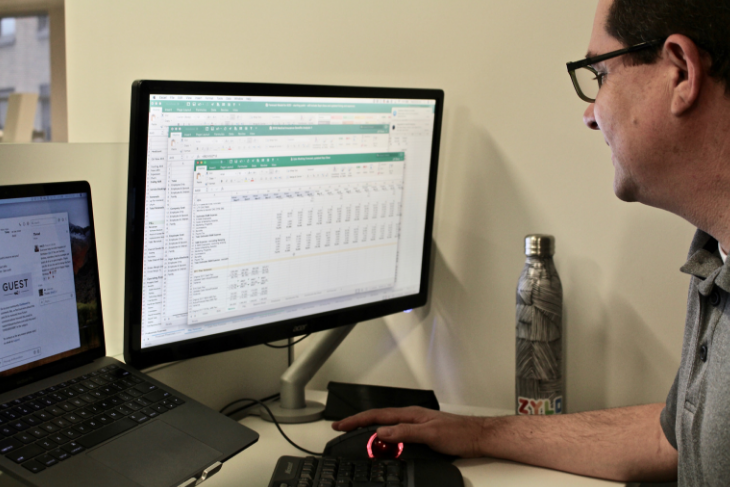 Help us picture your work environment.
I most often work from the office, the technology is there that I could work from home, however, I find that working in the office is very important when in a strategic or leadership position. Most of the technical work I do can be done in a silo, but the overall knowledge of the business I gain from being involved with others on an hourly basis and the value of the one-off discussions make the drive into work worth it.
What do you love about the work you do?
I love being involved in all aspects of the business, having a seat at the table, helping others with decisions – no matter the department. I enjoy finance and accounting, Excel & spreadsheets, and I enjoy making order and establishing process where there was none, but I truly love working with others and framing up the right thought processes for difficult questions.
Which personality traits, interests, and abilities are important or common for a person to succeed in and enjoy this occupation?
I think the two main things my career path requires are attention to detail and an ability to understand how small tactical tasks can affect large strategic decisions. There is an obvious need to be good with numbers. Not as obvious, but just as important, is the need for soft skills. I spend a significant amount of time working with others, both inside and outside the company.
Which tools/technologies or technical skills are particularly important for a person in your job to be proficient in?
Spreadsheeting and data skills are a must. If you can get the data out and don't know how to manipulate the data into information, you aren't much use as a financial leader. I think that having the opportunity to work in finance in a larger company is helpful, you get to see a large general ledger and work with larger accounting systems like JD Edwards, Oracle or SAP, you get to work with large data sets and you get to have the mentorship of more senior finance leaders – that way when you are at a smaller company working with QuickBooks, you know what it should be set up like. The goal of any small company should be to be successful and become a larger company.  Additionally, larger companies make great customers, so knowing how they work makes working with them that much easier (and conversely, they enjoy working with you, too.)
Which soft skills (aka general business skills or employability skills) are particularly important for a person in this occupation to be proficient in?
I once spent a whole day emptying trash out of a backroom so that we could put some desks back there to accommodate more employees, the next day I was working with a senior VP of a well-known bank on a debt facility and the day after that I was working with a busy board member making sure he was comfortable with the debt facility, the day after that I was calling the water cooler company to get them to come to replace our water filters.  One of the greatest non-technical skills a financial leader of a tech startup needs is the ability to contact switch between mundane items that just need to get done and high-level strategic items without missing a beat. When you are a 10,000 person company, there will be someone else to call on the water cooler, and you can focus on the TPS report, but at a startup, everyone has to be doing everything – and be good at it and enjoy it.
From your experience with new grads applying for and beginning jobs in this occupation, are they missing any particular knowledge, skills, or experiences that hold them back? Please describe.
I think that college does a good job with financial students, making sure they understand key ratios, and how to manage a large firm. Where I think they miss, is that on day one, a junior financial analyst isn't running a company, a junior analyst needs to be prepared to work through systems and datasets and look for the big picture amidst all the bits and bytes. I have told more than one junior analyst or accountant, it is important to have two heads and a light switch. Use your data-head to gather the data and prepare a report.  Then, flip the light switch and use your manager-head and ask two questions, "Does this make sense?", and "So what?"
If they'll do this, they'll catch most of their own errors ("boy, I know I just pulled this data, but this doesn't make sense.") and they'll provide more initial value ("I was asking my self, 'so what?', and I realized if we did XY&Z we'd be way more profitable.").
Which resources, people, books, websites, etc. would you recommend to those who want to learn more or advance their skills in this occupation?
I won't recommend a particular book or website. Instead, I am going to recommend learning 1 new excel skill weekly for your first year and reading two good business books a year for the rest of your life.
Try to find another data-head to work with, preferably one with a little more experience.  Ask them to show you how they finished that data project so quickly. When they show you something you don't know, google how to do it (there is always an excel tutorial if you google it). Once you learn how to do a Vlookup, google, "what is better than a Vlookup in Excel" and learn how to do Index Match. Don't know what those are – google them and learn. One excel trick a week… don't know what to learn?  Google "excel tricks". I am in my 40's… I still learn excel skills regularly.
I recently read "slicing pie" great book for pre-investment companies. Next I am going to read "Radical Candor". I like to read books all at once and I normally don't have time, so I pick a couple books to take on vacation. They aren't all good, but most of them are and I always seem to learn something. Don't stop reading when you graduate – read at least two business books a year.
What encouragement or advice would you offer to others considering this occupation or wanting to stand out amongst others?
If you are considering finance at a tech startup, my first comment is that you have to get some experience somewhere else. Startups usually have very small finance and accounting teams, and there is very little room for someone that doesn't have some experience yet. That being said, a couple years as an auditor and a couple years working FP&A (Financial Planning & Analysis) for a larger company, can be a great basis for running finance at a smaller company. Work hard, take on as many projects as you can, keep your eyes on the eventual goal, and it will all work out.
Want articles like this sent to your inbox?
Join the 30,000+ people keeping up with the latest Indy tech news, stories, and events by signing up for our newsletter.
Subscribe Now