The Iron Yard and AT&T teach officials how to code
For many, the world of software development can seem intimidating and confusing. Most of us use websites and apps every day of our lives, but few people understand the work that goes into making them.
The Iron Yard code school and AT&T decided it's time to change that by holding an event where local civic leaders and legislators get a taste for some basic coding and see what software development is all about.
"We're bringing in civic leaders from the government, private, and nonprofit sectors who recognize the tremendous growth in technology and innovation, and specifically in software development in Indianapolis," said Bill Soards, president of AT&T Indiana, who co-sponsors the event. "They've heard about it for a long time, but this is kind of an opportunity to peek behind the curtain and get a little bit of insider information on what software development actually is."
The Iron Yard instructors took civic leaders through a one-hour coding crash course so that they take away better insight into a major part of our growing tech ecosystem — an important goal for policy makers. Over a dozen civic leaders attended.
"I wanted to see the great work of The Iron Yard and to me it is the cutting edge of not only education, but technological education," said Indianapolis Deputy Mayor of Neighborhood Engagement David Hampton. "I think one of the challenges we face in our educational system is we are still teaching a 20th century pedagogical model, in the 21st century technological age.
"College may not be for every young person, but for those high school graduates who have an interest in technology, this is a great twelve week course. I think everybody should know about it. Coding is truly the wave of the future so I'm very proud to see The Iron Yard in conjunction with AT&T and I'm excited to see where it goes from here."
The Iron Yard coding school located downtown offers a twelve week intensive course in coding and software development to those who have a least a high school education who are looking to have a career in technology.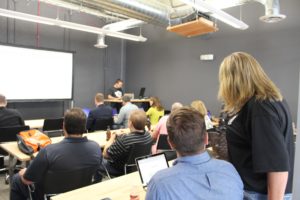 The campus director of The Iron Yard, Emily Trimble, said many of their students are career changers. The Iron Yard helps them learn coding, but they also provide services to help them get a job at one of Indianapolis' many thriving tech companies.
About the event with civic leaders, Trimble said: "We really just wanted to be able to bring The Iron Yard to a new group of people. We're hoping to make coding seem less intimidating for people by letting them just get in and break stuff!"
Want articles like this sent to your inbox?
Join the 30,000+ people keeping up with the latest Indy tech news, stories, and events by signing up for our newsletter.
Subscribe Now