Third stop of the Mayor's Tech Tour takes him to Sallie Mae and Carbonite
Last year, TechPoint invited Mayor Joe Hogsett to go on a "Tech Tour" and visit with leading companies in Indianapolis' tech ecosystem with two goals in mind:
Offer the mayor a deeper understanding of how tech and tech-enabled companies work, what they produce in terms of products and services, and a peek at the people behind the brands; and
Provide tech leaders and front line workers a chance to speak directly to the mayor about what they want and need from the city.
The mayor was quick to accept the offer and has now been on three such tours. His previous tour stops have included SmarterHQ, DoubleMap, Scale Computing, hc1.com, DemandJump and Lev. He's also kept abreast of developments in tech, including participating in major announcements from Salesforce and Infosys as well as attending events like last week's announcement from Lev. Those events, and a litany of acquisitions and investments, have helped spread news that Indianapolis' tech community is on an upward tech trajectory.
On Monday, March 4, Mayor Hogsett continued the Mayor's Tech Tour with stops at Sallie Mae and Carbonite.

First Stop: Sallie Mae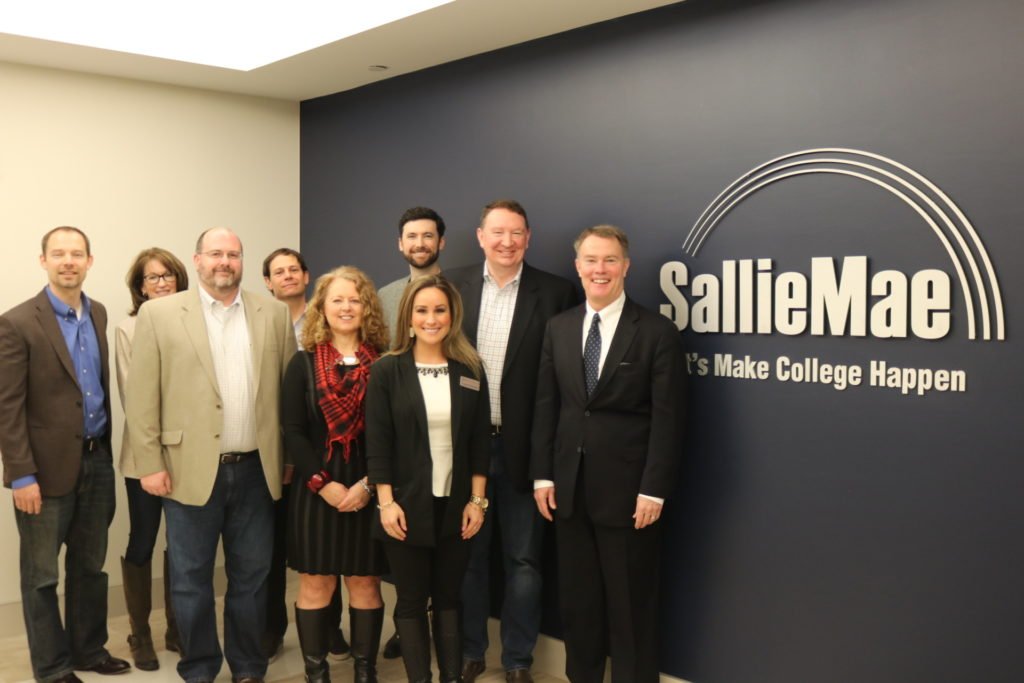 At Sallie Mae, much of the discussion focused on the company's digital transformation to a tech-enabled entity and talent recruitment. Since establishing itself as a standalone consumer banking business in 2014, more than 2 million families used Sallie Mae to help them pay for college, more than any other private student lender. The new Indianapolis office is Sallie Mae's second-largest location and home to more than 450 employees. Sallie Mae has committed to adding hundreds of additional information technology and customer service jobs.

"Indy has been really good to us," said Dan Kennedy, Chief Information Officer. "We're very excited about what's happening here in Indiana."

Like most financial services organizations, Sallie Mae had traditionally relied on contracted IT and software services but brought most of that work in-house, starting in 2017. It now has 26 teams nationwide pushing code in an effort to deliver clean, frictionless service to customers.

As Sallie Mae worked to skill up its workforce and incorporate new Agile processes, it created a quarterly meeting called the Program Increment Planning Event, or PIPE. During a PIPE meeting, 350 executives and developers gather and plan the next quarter's workload. "It's the most organized chaos you've ever seen," Dave Hallgarth, Senior Director Portfolio Delivery Office said. Mayor Hogsett was so intrigued with the PIPE process that he plans to attend the next one and bring along the city's IT leadership.
Asked what Sallie Mae needs from the city to keep momentum going, Kennedy said it comes back to talent and a need to ensure young, talented tech workers know what Indianapolis has to offer in terms of affordable housing, entertainment, schools and other quality of life and place amenities. He pointed to a group of 30 New Yorkers who were hired as contractors for a year with the idea that if they worked out and liked Indiana that they would become full-time Sallie Mae employees. Nearly all of them have stayed on.

Kennedy predicted that as long as talented workers could be found, Indianapolis would remain Sallie Mae's tech hub and that it would continue to grow in size and company influence.
Second Stop: Carbonite
At Carbonite, the company gave Mayor Hogsett a tour of its newly renovated space. Named for the substance used to freeze Han Solo in Star Wars: The Empire Strikes Back, Carbonite's offices are visually stunning including homages to the Star Wars franchise, including a huge mural that features the Indy skyline with an enormous Yoda.
Carbonite provides data protection for businesses and the IT professionals who serve them. Indianapolis is the heart of the company's research and development team, and most of the local office's 90 employees are engineers, or "Carbonistas." Worldwide, the company has about 1,000 employees.

Carbonite plans to be the world's greatest backup system, and much discussion during the tour involved data protection and the company's constantly adaptive environment. The company began offering consumer data backup but is now largely focused on business customers. Carbonite's constant evolution and adoption of new technology has helped it retain top level employees who are always looking to learn and use something new.

"It's all about finding interesting work," said Brian Owens, Director of Engineering, who took a job with DoubleTake (acquired by Carbonite in 2017) thinking it would be a stepping off point to work outside Indiana. "Twenty-one years later, I'm still here."

One way Carbonite keeps the work interesting for its employees is ensuring they're not bored. The company has made liberal use of TechPoint Xterns, but in the early days used to give more menial tasks to the newcomers rather than giving them more challenging work where they risked making mistakes. Owens said he had to be convinced to take the risk.
"It turns out, the Xterns are really talented," he said. "They really rise to the occasion when they're given significant challenges to solve. I have most been impressed with their professionalism and problem solving skills."

The company is rapidly growing and the good reputation of the Indy R&D office is growing, too. "We're going to continue to grow here," said Rob Beeler, Senior VP of Products & Engineering for Carbonite. "As long as we can continue to hire the people here, we'll continue to grow here."
In a statement after the tour, the mayor said it's important for city leaders to learn about the local tech scene and important for the city to market itself as a great destination to locate.

"The dialogue I am able to have with employees and business leaders during these behind-the-scenes tours provides me a better understanding of this integral sector of our local economy—and ultimately, helps the city identify resources to help support this network of cutting-edge companies as they continue to attract a talented tech workforce to Indianapolis," he said.
Want articles like this sent to your inbox?
Join the 30,000+ people keeping up with the latest Indy tech news, stories, and events by signing up for our newsletter.
Subscribe Now