Next Level Indiana Fund a BIG legislative victory for tech
As Jared Council points out in his IBJ.com story today — Tech leaders say they're pleased with Legislative session — the tech community in Indiana just scored a BIG victory by getting the Next Level Indiana Fund included in the state's budget with the help and support of Governor Holcomb and many supportive legislators.
The Next Level Indiana Fund, which replaces the Next Generation Trust Fund originally funded by former Gov. Mitch Daniels' lease of the Indiana Toll Road, allows the state to invest in high-growth Indiana companies. The fund had already been making investments in low-risk asset classes such as bonds, but lawmakers gave it the OK to invest in higher-risk asset classes like venture capital, setting the cap at $250 million.
Earlier this month in a post entitled Support passage of tech-friendly legislation and tech growth policies, TechPoint CEO Mike Langellier said, "If we accomplish one thing together this legislative session it should be passage of the Next Level Fund. I am compelled to believe that the Next Level Indiana Fund would have a major impact on the success of Indiana tech companies and innovation, helping us emerge as a Midwest tech hub."
Langellier explained that the Next Level Indiana Fund would shore up Indiana's relatively weak venture capital investment position compared to peer states. The funds now approved for investments into venture capital firms through the Next Level Indiana Fund were being invested in fixed income assets only and yielded low returns. A more balanced investment strategy including venture capital asset classes is expected to yield much better returns.
TechPoint investigated how Michigan, through the Renaissance Venture Capital Fund, and Ohio, through Cintrifuse, structured their programs and discovered that there are additional benefits to better returns as well. Renaissance's first fund invested into 10 venture capital firms based in Michigan and around the country. All 10 firms invested in at least one company, the fund yielded a top-quartile 15 percent return, and many more venture capital firms set up shop in Michigan. Because of the success, Renaissance raised a second fund.
Here's what other industry leaders had to say about the tech community's success at the legislature this session.
Mark Lawrance, Vice President of Engagement and Innovation Policy, Indiana Chamber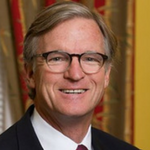 "We feel great about it," said Mark Lawrance, vice president of engagement and innovation policy at the Indiana Chamber. "I think the legislators really stepped up to give us the tools to continue to build out Indiana's future economy."
John McDonald, CEO of ClearObject and the chair of the Chamber's Indiana Technology and Innovation Council, said despite the few shortcomings, it was a great outcome.
John McDonald, CEO, ClearObject
"While we didn't get everything that was a high priority," he said, "I admire, appreciate and commend the leadership of both the House and Senate for listening, understanding and acting to support us."
Although the management of the Next Level Fund has been established, its mechanism for investing money in high-growth Hoosier companies is still to be determined. Tech leaders following the issue, including Allos Ventures managing partner Don Aquilano, are advocating that fund directors should use a "fund of funds" approach.
Don Aquilano, Managing Partner, Allos Ventures
Aquilano said the recipe for how to spur needed venture capital investment in Indiana via a fund-of-funds model exists. "I have firsthand experience of seeing it at work in both Michigan and Ohio," he said.
Want articles like this sent to your inbox?
Join the 30,000+ people keeping up with the latest Indy tech news, stories, and events by signing up for our newsletter.
Subscribe Now