2018 Tech Year in Review
When I found the 2017 tech trends and announcements article to prepare for this year's wrap-up, a thought occurred. How many of you remember this?
As unbelievable as it may seem, that was our website up until April 28 of this year. Until TechPoint Index was born.
While we still hold love for our old site, we've since been proud to put our new brand identity and TechPoint Index platform to good use in supporting the Indiana tech ecosystem. Your stories have helped make this place what it is. Thank you for supporting TechPoint.
As both TechPoint and TechPoint Index have evolved, so has the Indiana tech ecosystem. New partnerships were formed, which brought fresh talent and ideas to the state. There have been some major funding deals completed this year, including one that broke $100 million. Indiana continues to be on the forefront of creating a business environment that's open to new companies and encourages growth in the tech sector. Companies based in Indiana also continue to shine in local and national rankings and awards. With more people and companies recognizing what Indiana has to offer, 2018 has set up our tech ecosystem to experience even greater growth in the coming years.
Amazon HQ2
Amazon's HQ2 process dominated news cycles at both the beginning and end of 2018. Our first reporting on HQ2 covered Indy's finalist status, one of 20 cities making the big cut. When Amazon opted to go elsewhere in their announcement in November, our president & CEO Mike Langellier made sure we felt the motivating burn to improve our city and state even more.
Launches and Acquisitions
As we reported in our quarterly VC wrap-ups, the Indiana tech ecosystem has seen more than 25 Indiana companies involved in acquisitions this year.
2018 also saw quite a few major initiative launches, bringing new ideas, people and passions to our community:
Infosys opened their Innovation Center in downtown Indy. At the center, Infosys employees partner with large companies to produce some impressive R&D projects. This was followed later in 2018 by the groundbreaking of the company's U.S. Education Center at the old Indianapolis Airport.
Techstars launched 2 accelerators in Indy, engaging with companies like The Heritage Group and organizations like the NCAA to introduce the Techstars development program to materials and sports tech.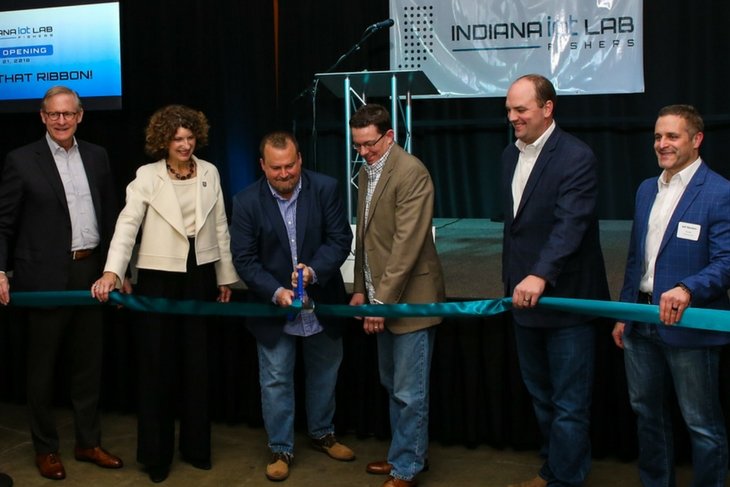 The Indiana IoT Lab opened in Fishers. Spearheaded by this year's Trailblazer of the Year Mira Award winner John Wechsler, the Indiana IoT lab serves as an important space in developing the next level of tech in Indiana. It's since become a popular place to be (just ask celebrity chef Robert Irvine).
Speaking of IoT, Allegion Ventures launched with a $50 million fund to invest in new tech startups, particularly those building the next wave of IoT devices. Several other Indiana companies launched their own corporate venture funds, similarly targeting tech startups locally and abroad.
Funding deals
Venture capital is critical to high-growth tech companies. The scale-ups listed below received the most amount of capital in 2018, according to public sources available as of publication:


July saw an historic $100 million raise by High Alpha, funding that will be used to support new enterprise software startups in Indianapolis and the Midwest.
In October, Scale Computing announced its $34.8 million capital raise in strategic Series F funding in order to extend its global reach as a leader in hyperconvergence and edge computing.
Marketing technology company PFL.com closed a $25M raise in April. The company also opened its HQ East this year, pioneering a new team leadership model.
In January, Indy-based health analytics firm Springbuk closed a $20 million Series B raise led by California-based HealthQuest Capital and Echo Health Ventures, a strategic collaboration of Cambia Health Solutions and Mosaic Health Solutions.
Zylo completed its $9.3 million Series A raise in January, led by Bessemer Venture Partners of Silicon Valley, Rise of the Rest's Revolution firm and investments from the venture capital firms operated by Salesforce and Slack.
Awards
2018 Mira Awards
Salesforce, SupplyKick, Springbuk, FreightRover and the City of Indianapolis-Marion County, Information Services Agency were among top honorees at the 19th annual Mira Awards Gala, held on April 28 at the J.W. Marriott—Indianapolis with a record crowd of 1,300 people. The awards program celebrated 15 award winners and two honorable mentions chosen from a record 205 applications.
Indiana companies make the 2018 Inc. 5000 list
This year, 18 Indiana tech companies were recognized on the 2018 Inc. 5000 list, an annual collection of the fastest-growing private companies across the U.S. Twelve of the 18 companies have either been nominated or won a Mira Award in past years.
Events
IWiT Championship Week

In August, the 2nd Annual IWiT Championship (led by Indy Women in Tech) kicked off a week of events with an LPGA tournament and loads of opportunities focused on STEM education. This year's IWiT Summit, held during championship week, drew in more than 500 people to converse around not just increasing opportunities for women in tech, but specific insights into how women in Indianapolis perceive our tech ecosystem. The organization was led in this endeavor by Jody Dedon, named executive director in February this year.
Tech 25
Also held during IWiT Championship week was our 4th annual Tech 25 event, celebrating twenty-five individuals who are critical and exceptional performers helping to grow our community's tech and tech-enabled companies, but who — not being the CEO or other top executives — don't get celebrated publicly as often.
VC Speed Dating & Scale-up Summit
In September, we hosted VC Social and VC Speed Dating, the spiritual successors to Winners' Circle that drew a total of 40 venture capital firms from 16 different states and 43 Indiana-based startups and scale-up companies seeking potential investment, as well as the Scale-up Summit, a program for Indiana tech leaders to exchange knowledge.
Policy
Indiana leans into exempting SaaS sales tax
In March, Governor Holcomb joined several tech leaders at DemandJump's offices in Indy to sign a bill eliminating state sales tax collection on software-as-a-service products. As one of four states in the U.S. to do so, the policy will help Indiana become more competitive as a place for tech companies.
FCC looks to Indiana to set national 5G standards
Both AT&T and Verizon announced that they were bringing their 5G data speeds to their wireless networks in Indy, the first city in the U.S. to do so. Indiana's telecoms laws were cited as a big draw for these companies, so much so that the FCC modeled their 2018 national standards for 5G after Indiana's.
10 Most Viewed Stories of 2018
Of the 235 stories we published in 2018, written by us and the community of tech enthusiasts, entrepreneurs, marketers, CEOs, venture capitalists, and more, here are the top 10 most-read stories:
Lastly, as a testament to how much Indiana has grown as an attractive tech ecosystem, we saw a record-breaking year for our Xtern talent program. For the 150 or so spots in the 2019 class, we received 1,816 applicants who came from 43 home states and 120 universities, ranging from Carnegie Mellon University to UT Austin to UCLA and UC Berkeley. The nation is acknowledging what Indiana can do, and future talent is taking the opportunity to join the work our ecosystem is accomplishing.
Want articles like this sent to your inbox?
Join the 30,000+ people keeping up with the latest Indy tech news, stories, and events by signing up for our newsletter.
Subscribe Now